Oxfam Festivals Privacy Notice
Sam Baggette/Oxfam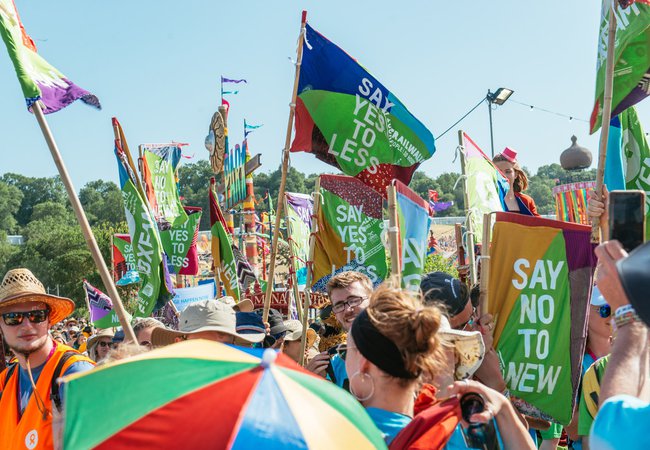 Oxfam Festivals Privacy Notice
Please note, this document refers to Oxfam Festivals policy only – to see Oxfam's full privacy policy
Privacy notice
Welcome to Oxfam. When you sign up for a festival we will collect information about you. This privacy notice explains why, and what we do with your data.
What type of personal information is collected?
Key details
Your name, age, photo, address, phone number, date of birth, and previous experience.
Criminal convictions
Should you have any unspent criminal convictions, we will ask you to declare this and then confidentially contact you to make sure we are able to support your application.
Medical/Access requirements
This ensures we can contact you to discuss any support you need.
Friends email addresses
So that we can pair you up with people you would like to be matched with as shift partners.
Emergency contact
Who we can contact should there be an emergency.
Experience with Oxfam
Festival/campaigning or shops experience.
Travel information
When and how you plan to arrive at the festival.
If you are bringing children
So that we can contact you for further details should you wish to bring children.
Comments
We are able to save comments about your application such as your performance on site and any issues that might arise, eg 'Had to leave site due to family emergency'.
Financial Data
This is collected and stored securely by the third party used to process your deposit payment.
Marketing consent
We will ask you to declare your preferences around if/how you would like to receive marketing updates from Oxfam GB
Why is this personal data being collected?
We need this personal data for the following reasons:
Key details
To ensure that we can process your application and secure your wristband we need to gather key details. We will also use your mobile number to contact you on site should we need to contact you regarding your volunteering or in an emergency. We ask your gender so that we can provision onsite services proportionally. We will ask if you have any unspent criminal convictions, by letting us know, this does not always mean you won't be allowed to volunteer, we will confidentially contact you and assess on a case by case basis.
Photo
Your photo is used as a visual identification and will be printed on your Oxfam Festivals ID card – this allows you access to our secure camp site.
Medical/Access requirements
Oxfam Festivals are open to everyone. This section is provided so that you can let us know if there is any support that you would need in order to facilitate your experience. Should you complete itwe will be in touch to discuss your requirements.
Friends, names, date of birth and email addresses
Oxfam Festivals allows you to be paired with up to 6 of your friends so that you will be on and off shift together. In order to do this, we need to identify your friends and this information is used for this. This will not be used for anything else or marketing purposes.
Emergency contact
Oxfam Festivals has a duty of care to look after its volunteers, this includes being able to alert someone you designate in the event of an emergency.
Experience with Oxfam
For stewarding, this helps us establish which role might be best for you. Places for shops and campaigns volunteers are selected from all applicants and this information forms the basis of that decision.
Travel information
For many festivals we will need to issue car passes, reserve space for cars and campervans and arrange coaches –by giving us this information we are able to administer this. We will ask for your registration plate so that your vehicle is permitted to enter site,and should we need to identify vehicles on site for any reason we can do so.
If you are bringing children
At some festivals, we allow volunteers to bring their children if they have a ticket and there is support to look after the child while you are on shift. This information allows us to contact you for further details should you wish to apply to bring children.
Comments
While on site, you will be looked after by many Oxfam staff, to ensure continuity, we may record comments about performance, disputes or any other queries. This information may then be used both during and after the festival in many ways including, to put you in a suitable role at another festival and to support any praise or complaints you have raised or have hadraised about you.
Financial Data
To manage the collection and return of your deposit payment, as well as any deductions such as admin fees.
Driving Licence Details
To insure you are correctly qualified, if we are asking you to undertake a role which involves driving a vehicle.
How is the data being collected?
This data will be collected using the following methods:
All information, except for the comments, is collected by the Oxfam Festival Application site, within this you can also update your information.
Financial details are gathered by Stripe Inc.
The Comments are collected via our Festivals Management Application and entered by staff or volunteers on site and in the office.
Extra details about the medical or access support you need, detailsabout your criminal convictions, or driving licence information is collected directly via email or telephone call.
How will the information be used?
Your data will be treated in the following way:
All the information you give us will be stored securely inOxfam offices and IT systems and our contracted suppliers' IT systems.
We will categorise your data into three parts:
Data which we use to identify you and know your history with Oxfam Festivals. This includes but is not limited to: name, address and email as well as your festival application history with Oxfam Festivals and any comments, complaints, and status updates that have been recorded. We will keep this data for up to 7 years from the last time you modify your festival profile or your consent preferences.
Data which we use to look after your welfare onsite and information specific to the festival(s) you volunteer at.
This includes, but is not limited to: medical/access requirements, emergency contact details, transport arrangements, friends contact details etc.
We will keep this information for no more than 12 months from the time you apply for a festival.
Payment information.
Oxfam Festivals payment services are provided by a company called Stripe Inc. Oxfam does not process or hold any payment information other than if a payment is successful and how much that payment was for. All details are held by Stripe Inc. and their Privacy Policy can be found here: https://stripe.com/gb/privacy.
If Oxfam Festivals no longer needs personal information for the original purpose for which it was collected we will delete/destroy it in accordance with our data destruction procedures unless we have a legal obligation to retain personal information for a certain period.
This personal information will not be used for unsolicited newsletters or direct marketing.
Will Oxfam share my information with anyone else?
Your data will be shared by:
Teams within Oxfam responsible for administering Festivals, includingSupporter Relations, IS, Comms,and Selections.
Suppliers of Oxfam who support our information systems, in accordance with Oxfam's instructions and to our security and privacy standards.
For some festivals, the organisation that runs the event, so they canmanage accreditation,run security checks on all crew(such as PNC checks),and if your role involves driving, to confirm your licence details. Note -this does not give the event organisers the permission to use your data for marketing purposes.
For some festivals, a supplier contracted by the event to provide other services such as ticketing and wristband management.
For some festivals, a service that provides access to the ThePolice National Computer (PNC), if we need to run criminal record checks on all volunteers for that event.
How can I see what information you have about me?
If you have any further questions or comments concerning your privacy, wish to access your personal data held about you, delete, or update information we hold about you, please contact the Oxfam Festivals team on festivals@oxfam.org.uk or Oxfam's Data Protection Officer at:

Data Protection Officer
  Oxfam
  Oxfam House
  Oxford
  OX4 2JY

You also have the right to see, update, restrict, object to the use of, or withdraw your data at any time and at no cost. If you wish to exercise any of these rights, please contact the Oxfam Festivals Team or Oxfam's Data Protection Officer.
You have the right to lodge a complaint in relation to the processing of your data with the Information Commissioner's Office, the public body responsible for information rights. More information can be found on their website at https://ico.org.uk, or you can write to them at:

Information Commissioner's Office
  Wycliffe House
  Water Lane
  Wilmslow
  Cheshire
  SK9 5AF