What is Festival Campaigning?
Campaigning at festivals is an opportunity to come along to your favourite festivals while making a real difference in the world. Engage with festival goers as you tell them all about Oxfam's campaign messaging, share your passion, and encourage them to take an action, such as signing a petition or getting involved in a creative activity. With 6-hour shifts and every day finishing at 5, you are guaranteed to catch every headline act. Plus, you'll get to meet lots of amazing people, soak up the festival atmosphere, and make real change happen in the process.
What's involved?
Over the years we've painted people blue, asked festival-goers to write to their MP about the refugee crisis and spoke about the effects that fast fashion has on the environment.
As an Oxfam Campaigner, you will act as an ambassador, sharing our message and encouraging action.
Our 2022 campaign was a massive success. We took 141,509 signatures to COP and Governments took notice! They agreed to set up a 'loss and damage' fund to pay for the harm done through climate change.
But, the question remains, who should bear the responsibility of funding this initiative? We believe it should be the largest contributor to fossil fuel pollution. In 2023 we saw 46000 people take action at festivals ALONE, the most we have ever had!
Sam Baggette/Oxfam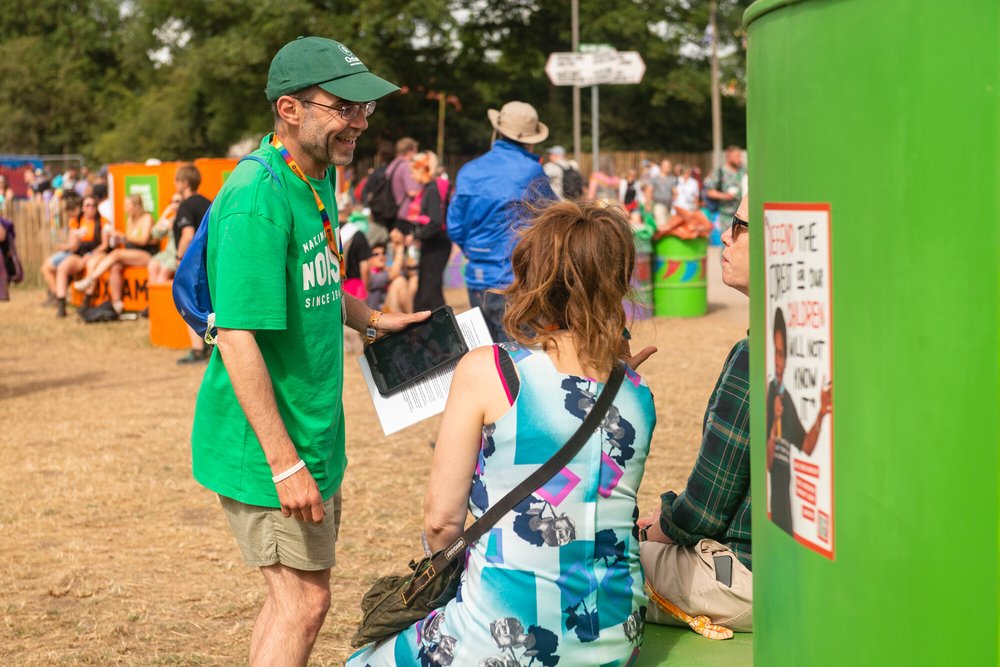 What benefits do I get as an Oxfam campaigner?
.
Secure camping in our Oxfam campsite

A free food voucher for every shift

Free tea and coffee 24 hours a day

Access to crew only showers and toilets

Free phone charging in our campsite

How do I apply?
We are looking for excellent communicators with plenty of energy who will be confident approaching and conversing with members of the public and acting as an ambassador for Oxfam. If this sounds like you, we'd love to hear from you next year!
If you're new to campaigning, read on to find out what's involved in the application process.
About the application process
The first step in applying for a campaigning place is to log in to your account, choose your festival(s) from the drop-down menu and pay your deposit. This will reserve your place until we have reviewed your application.
As campaigning places are limited we ask that you demonstrate how you meet the skills we need and why you would make an excellent campaigner.
In no more than 300 words tell us about one of Oxfam's past or present campaigns and why you like it. At festivals this year our campaign will focus on climate justice – why do you think this is important?
Record a 3-minute video of yourself: tell us a bit about yourself, including why you think you'd make a good campaigner, and tell us about something (anything!) that you're passionate about – try and make us love it as much as you do!
Next, upload your video as an unlisted file to YouTube and paste the URL into the box provided in your profile. If you have any problems with this, please email us.
We will review every application and accept those we think would make a great fit. If you are not successful, your deposit will be returned to you after we have reviewed your application.
We often receive a high volume of applications for festival campaigners, so please apply early. As part of the selection process, we may also contact applicants by phone to discuss your application in more detail.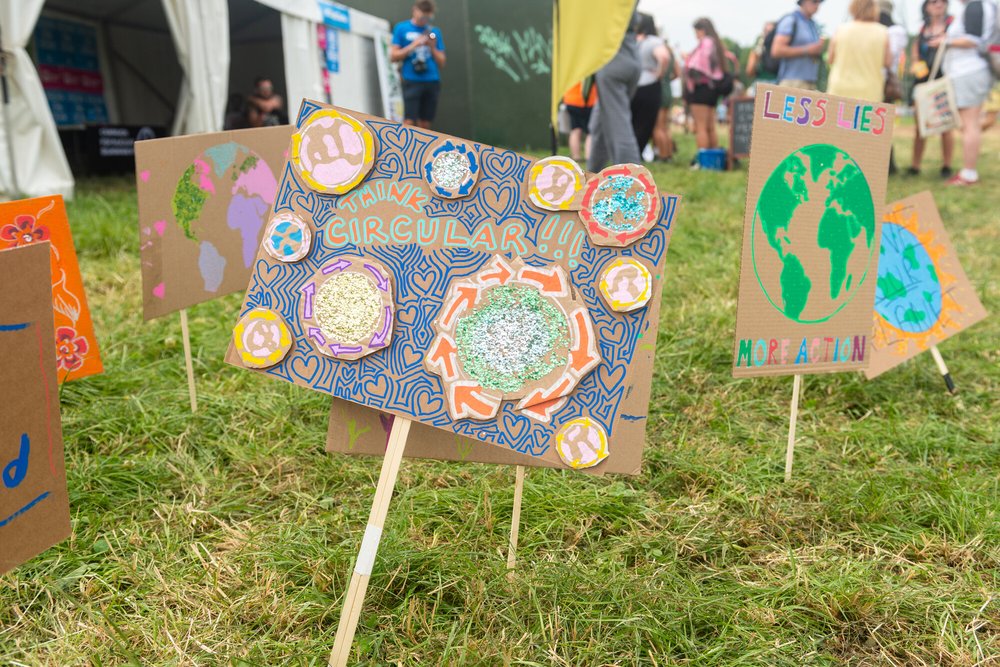 Campaigning at Glastonbury Festival
Because demand is high, to be considered for a campaigner place at Glastonbury you will need to sign up to campaign at a second festival. If you cancel your second festival after Glastonbury, you will lose half of your deposit (unless you have a valid reason and you can provide evidence, in which case a £20 admin fee will apply instead).
Sam Baggette/Oxfam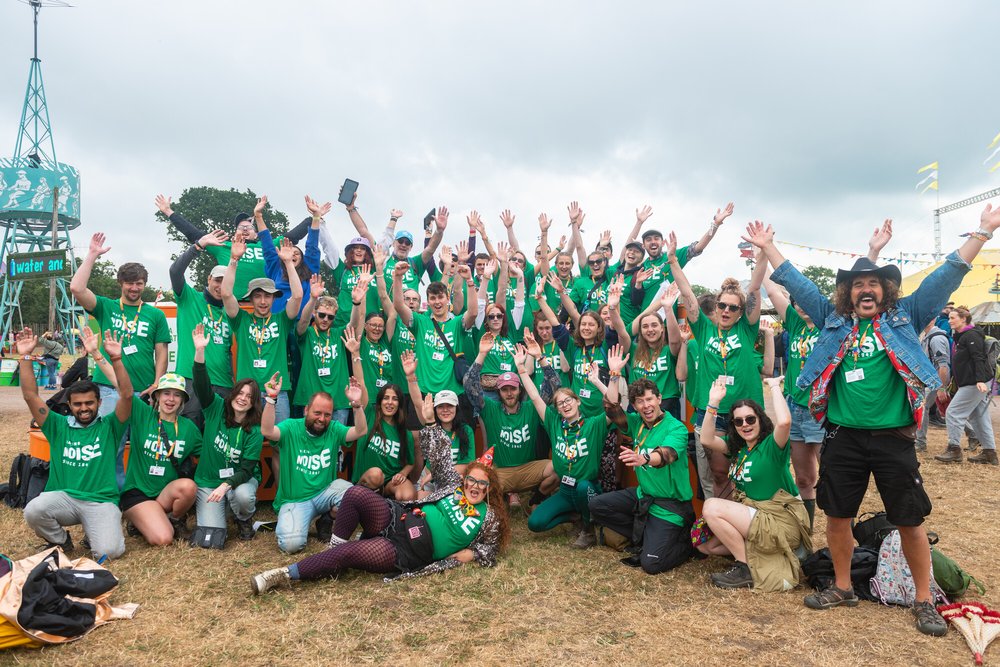 Become A Campaigning Superstar
Exciting News! We have introduced a new Campaigning Superstar system for our Festival Campaigners. We will be giving our top Campaigners in 2023 our Campaigning Superstar status, with 50 spaces up for grabs.
Only those who get above and beyond the campaigning targets set for each festival will become an Oxfam Festivals Superstar!
This means that when applications open for Campaigning in 2024, the 2023 Superstar applications will go to the top of our list for selection for your chosen festivals.
Some festivals will still have limited capacity, so if all our 2023 Superstars want the same festival in 2023, you will still be picked on the strength of your application.
Oxfam always run a campaign that really you can relate to as a member of the public and I really liked being able to bring that to people at a festival. The hours are great as well which means you still get to see your favourite acts and you get a bit of a lie-in, in the morning."