Nic Kane / Oxfam GB

What is festival shop volunteering?
Each year, Oxfam brings its shops on the road to some of the UK's best festivals. We hand-select the best stock to suit each festival crowd, as well as bringing festival essentials from waterproofs and wellies to flip-flops and sunglasses. But our shops couldn't run without the help of our volunteers to set up and manage the shops during the festival.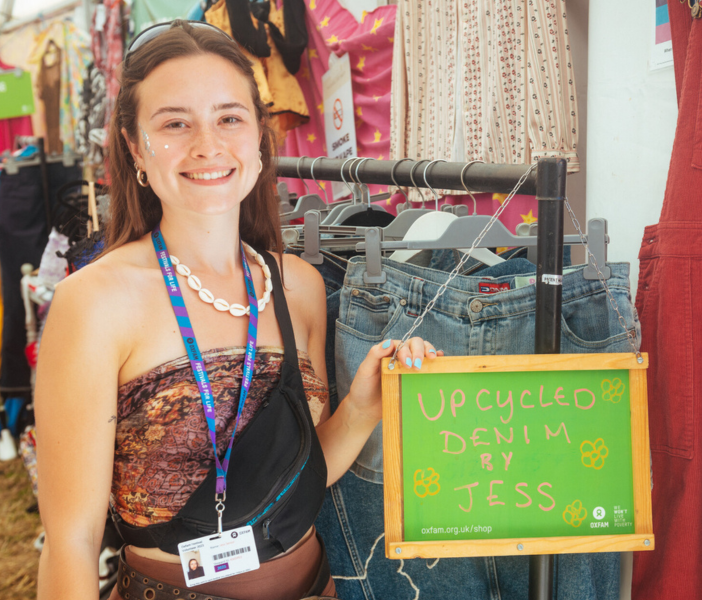 How do I apply?
Festival shop volunteering is open to current shop volunteers, interns, or members of staff with at least three months of experience. Or, anyone who has volunteered at two or more festivals with Oxfam Festival Shops in the past four years.
If you meet these criteria, we would love to have you on board next year! To apply, you simply need to provide your Oxfam Manager's email address when asked for a reference, to confirm you fit the criteria. You will then have an informal phone interview where you will be informed of the next steps in the process.
What does Festival Shop volunteering involve?
When you volunteer with Oxfam Festival Shops, you will get to enter the festival site before the public to help set up shop and pack down again after everyone has left. Your day-to-day duties will vary from cash handling and talking to customers, to changing the stock depending on the weather. There is never a dull moment when working at a festival shop!
Over the festival period, you will work one 6-hour shift a day, rotating between morning, afternoon, and evening shifts, giving you plenty of time to enjoy the festival and catch some incredible live acts.
Nic Kane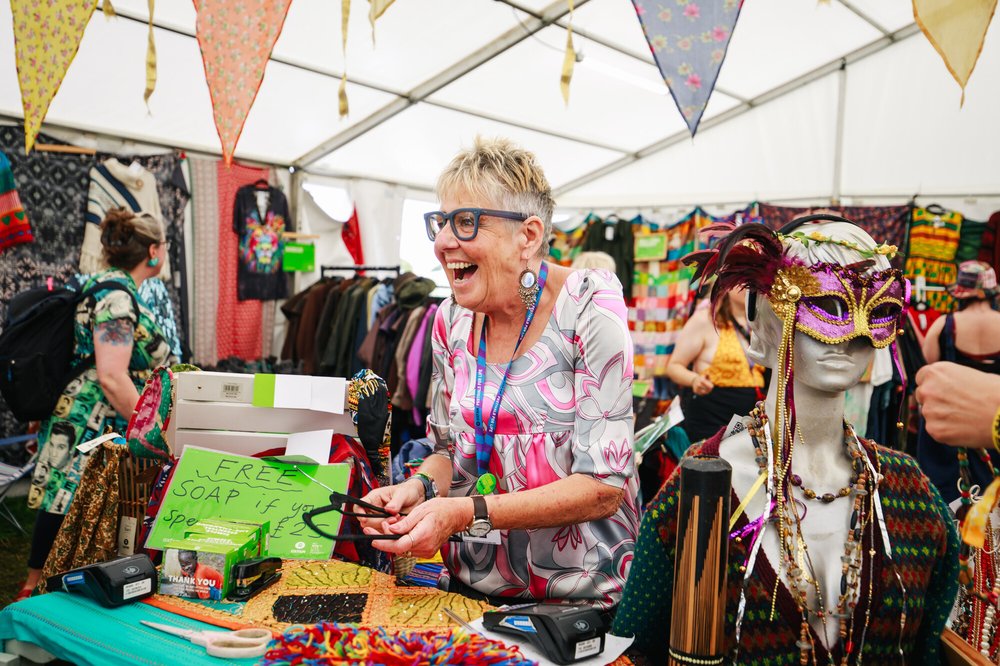 Why volunteer with Oxfam Festival Shops?
We love selling amazing second-hand fashion, keeping customers warm and dry, and raising vital funds in our fight against global poverty. And we think you will too!
Plus, when you volunteer with Oxfam, you'll get to meet lots of amazing people who you can enjoy spending time with on and off shift. The Oxfam community is super friendly so you're sure to make new friends and have a great time.
Sam Baggette/Oxfam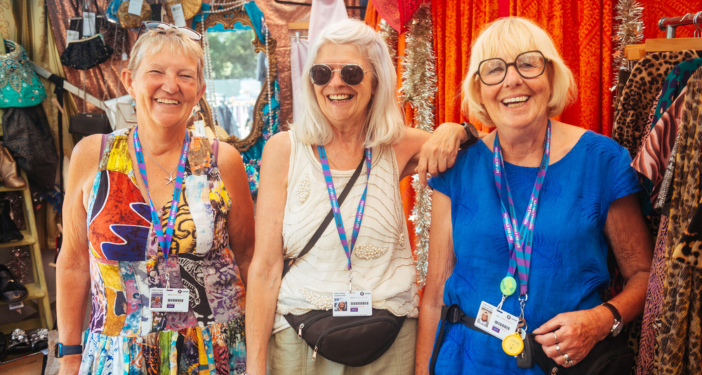 What benefits do Oxfam Festival Shop volunteers get?
.
Secure camping in our Oxfam campsite

A free food voucher for every shift you complete

Free tea and coffee 24 hours a day

Access to crew only showers and toilets

Free phone charging facilities in our campsite

Which festivals can I volunteer at?
This year, we brought our shops to 7 UK festivals. These are; Bearded Theory, Download, Glastonbury, Latitude, WOMAD, Boomtown, and Leeds.
The best thing about volunteering at festivals is the people. The people are wonderful. Everyone's up and open for wearing sparkle, dresses, they look fabulous, and then they bring them back to us and we can recycle them again. It's a big family, the Oxfamily, and we just love it."
Long term festival shop volunteer, Lesley
You might want to know
Do you cater for medical and accessibility requirements?
We believe that festival volunteering should be for everyone, which is why we are dedicated to making stewarding as accessible as possible. We welcome deaf and disabled volunteers and those with health issues. All you need to do is let us know of any access requirements when you sign up and we will get in touch to discuss how we can support you on-site.
Do I need to pay a deposit?
No, unlike festival stewarding, you will not be required to pay a deposit to volunteer at one of our shops.